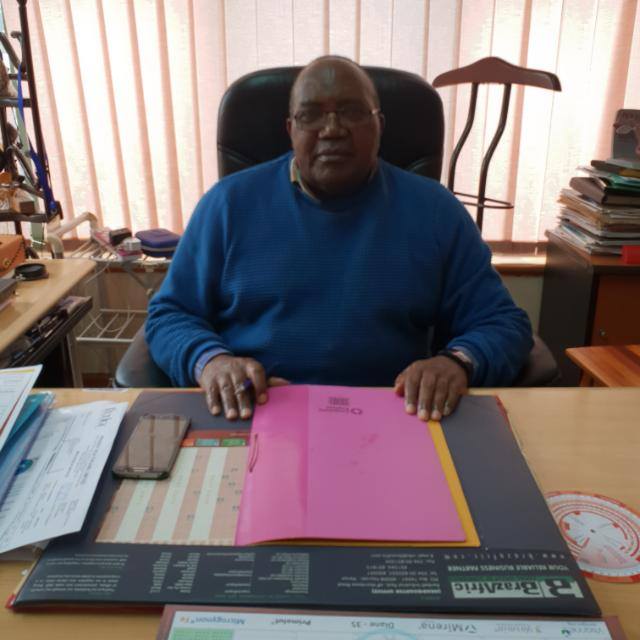 Profession Summary
MBChB, MMed(Obstetrics & Gynaecology),
Medicine Specialist and Aviation Medical Examiner
Medical Board Number:A0692
Professional Training
MBChB University of Nairobi
MMed(Obstetrics & Gynaecology) University of Nairobi
Diploma in Infertility Hammersmith Hospital
Membership of Professional Bodies
Kenya Obstetrical and Gynecological Society
Kenya Medical Association
Medical Practitioners and Dentists' Board

Publications
"A review of uterine fibroids at Kenyatta National Hospital Part of M.Med Dissertation Submitted in 1980 (pg 356-377)"Wanjala S. 1980


"A prospective study of premature rupture of membranes at Kenyatta National Hospital. Part of M.med Dissertation submitted in 1980 (pg 160-185)"Wanjala S. 1980


"Mortality due to abortions at Kenyatta national Hospital Abortion; Medical progress and social implications Pitman. London (CIBA foundation symposium 115 41-53)"Wanjala S,Murungu N.M., Mati K.J 1985


"Problems of contraceptives continuation and discontinuation in family Planning in a manual of clinical family Planning practice chapter 15 (pg 165-177) Edited by Khama O Rogo (K.M.A Publication)"Wanjala S 1998


"Infertility in family Planning In manual for clinical Family Planning Practice Chapter 18(pg 197-203) Edited by khama Rogo K.M.A Publications."Wanjala S 1989


"A review of the Medical aspects of adolescent fertility in Kenya J.Obsted. Gyn.East &Central Africa 9:37-44"Lema V.M. Makokha A.E, Sanghvi HCG., Wanjala SM . 1991


"Rupture of the gravid uterus: A review E. Africa Med J >68:430"Lema V.M. Ojwang SBO. Wanjala S.H.M 1991


"The menstrual cycle in Adolescent Girls in three secondary schools in Machakos District in Kenya: Across – sectional ComparativeStudy."Ngayu G.W., Ndavi M.P, Wanjala S.M, Rogo K.O


"The onset of Spermaturia and the development of puberty Changes among urban Boys in Kenya"Ataya W.M, Kigondu C, Ruminjo J.K , Wanjala S M, Munyao D.


Admission Rights
Nairobi Hospital
Aga Khan University Hospital
M. P. Shah Hospital
Avenue Hospital
Nairobi Women's Hospital
Mater Hospital
Meridian Equator Hospital

Insurance Recognition
Jubilee, AoN Minet, UAP, Pacific Insurance Brokers, Britam, AAR, Clarkson Nottcutt, Madison Insurance, CIC, Eagle Insurance Brokers
Languages Spoken
Swahili, English,

Gender:
Male
Hobbies :


Practice
Email:
wanjalasm@yahoo.com
Phone:
Consultancy
The Nairobi Hospital Doctors' Plaza, Argwings Kodhek Rd, Opposite Silver Springs Hotel
Phone Number
Opening Hours 13:00:00
Closing Hours 18:30:00