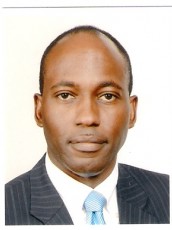 Profession Summary
MBChB, MMed , Cert Cardiology,
Consultant Physician
Medical Board Number: A 4399
Consultant Physician, The International Clinic
Professional Training
MBChB University of Navarre (Pamplona)
MMed Internal medicine University of Nairobi
Cert Cardiology Cardiology National Cardiovascular Centre, Osaka
Certificate DTM&H University of London
Certificate Diabetes Care Centre for Diabetes & Endocrinology, Johannesburg, SA
Membership of Professional Bodies
Kenya Medical Association
Kenya Association of Physicians
Kenya Cardiac Society

Publications
"The Thika Diabetes Study: Diabetes in Newly-Admitted Patients at a Referral County Hospital in Kenya"Cardiovascular Journal of Africa; Vol 24, No 5, May 2013: p 15


"Heart Disease in Africa Cardiovascular Complications of Diabetes Mellitus in Sub-Saharan Africa"Circulation 2005; 112: 3592-3601 Contained citation of my study on Cardiovascular Risk Factors in Blacks undergoing Coronary Angiography.


"Cardiovascular Risk Factor Profiles of Black Africans undergoing Coronary Angiography" The East African Medical Journal" Vol 81 No 2 pg 82-86 (2004)


"Coronary Artery Disease and Symptoms of Depression in a Kenyan Population"African Medical Journal, Vol 81 No 12 pgs 611-615 (2004)


Admission Rights
Aga Khan University Hospital
Karen Hospital
M. P. Shah Hospital
Avenue Hospital
Meridian Equator Hospital
Naidu Hospital
St Mulumba Hospital

Insurance Recognition
AAR, Britam, Resolution Insurance, UN, AoN Minet, Real Insurance, GMC, PACIS
Languages Spoken
English, Spanish, French (fluent), Kiswahili (fluent), Kikuyu (fluent), Japanese (basic),

Gender:
Male
Hobbies :
Travel, Music, Golf

Practice
Email:
ckamotho@theinternationalclinic.co.ke
Phone:
0202622633
The International Clinic
The International Clinic takes pride in the well-established and highly-specialized medical facilities that have enabled it to excel in healthcare. Heavy investments in cardiac diagnostic equipment, professional human resource and a well-governed corporate structure have ensured quality service to clients. The facility has a dedicated medical research team which ensures that international milestones are maintained.
The International Clinic, along Thika - Gatitu Road, opp. Cravers Hotel, Thika
Phone Number 0729663889, 0208044844
Opening Hours 09:00:00
Closing Hours 18:00:00