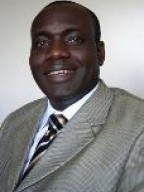 Profession Summary
MBChB, MMed ,
Medical Board Number:BDF
Professional Training
MBChB University of Nairobi
MMed University of Nairobi
Clinical and Research Fellowship in Glaucoma University of Ottawa, Canada
Membership of Professional Bodies
Kenya Medical Association
East African College of Ophthalmology
Ophthalmological Society of Eastern Africa

Publications
"Middle East Africa Journal of Ophthalmology. Jul-Sept 2009; Vol 16[3]: 151-155"Kiage D, Gradin D, Gichuhi S, Damji K. Ahmed Glaucoma Valve Implant: Experience in East Africa


"Academic Medicine, Vol. 84, No.8; August 2009. 1152-1160"Kassam F, Damji FK, Kiage DO, Carruthers C, Kollmann KHM. The Sandwich Fellowship: A subspecialty training model for the developing world


"Techniques in Ophthalmology 6[3]: 76-82, 2008"Kiage D, Damji K. Laser Surgery for Glaucoma. Review Article


"Primary Open Angle Glaucoma: Setting Target Intraocular Pressure Range and Update on Use of Glaucoma"Kiage D, Damji KF


"Medications in East Africa. Review Article. E Afr J Ophthalmol. 2008 May; 14(1): 60-71"


"Rotational Autologous Keratoplasty. Case Series. E. Afr. J. Ophthalmol. May 2007 Vol 13[1] 21-23"Kiage D.


Admission Rights
The Aga Khan Hospital
Aga Khan University Hospital

Insurance Recognition
Languages Spoken
English, Swahili,

Gender:
Male
Hobbies :


Practice
Email:
dankiage@aku.edu
Phone:
Aga Khan University Hospital
Nairobi
Phone Number
Opening Hours 09:00:00
Closing Hours 17:00:00